Menz FruChoc Mini Swiss Rolls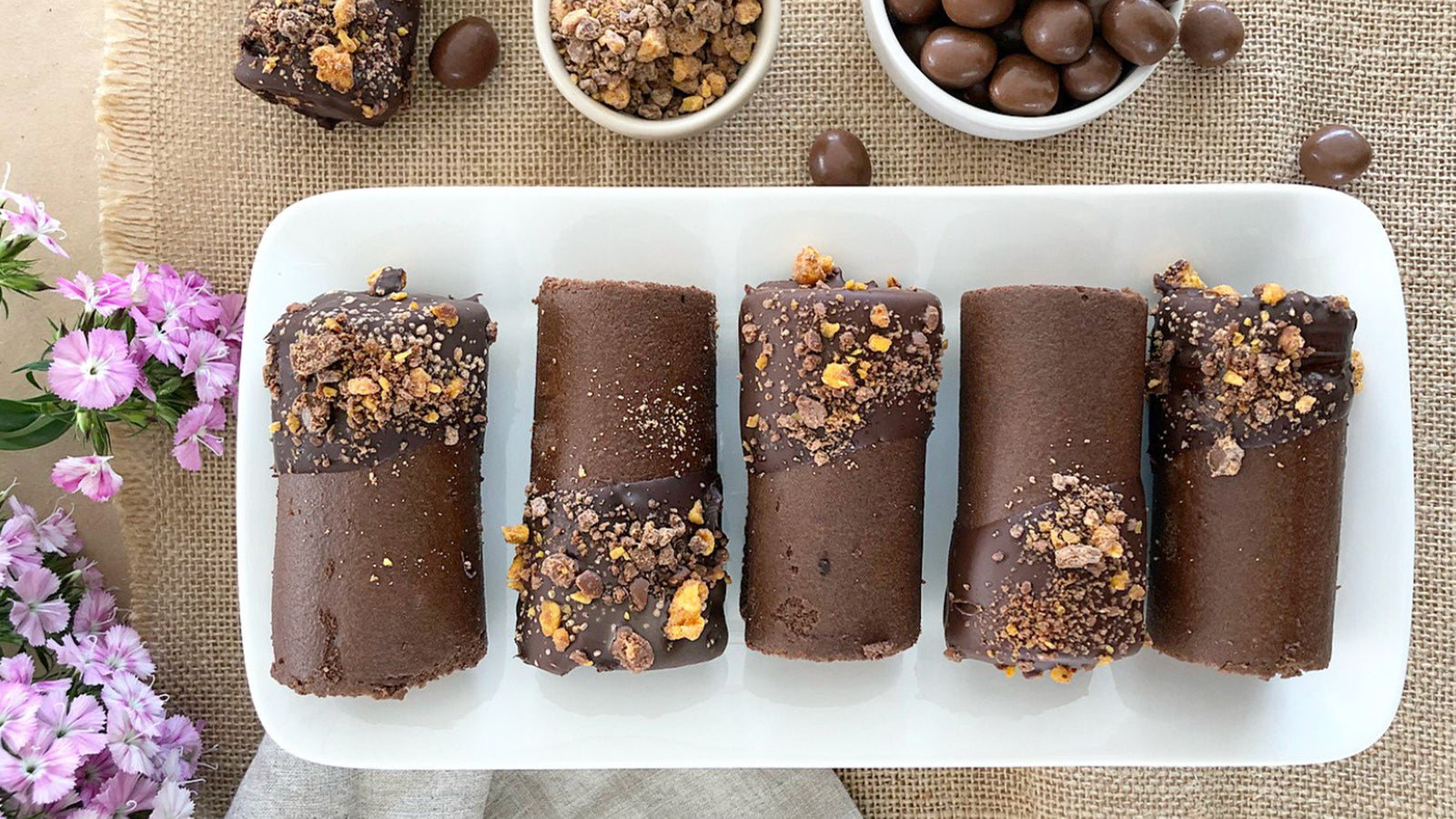 Ingredients
Nonstick cooking spray, for the baking sheet
Nonstick cooking spray, for the baking sheet
1/4 teaspoon cream of tartar
1/4 teaspoon cream of tartar
6 large eggs, separated, at room temperature
6 large eggs, separated, at room temperature
1 teaspoon pure vanilla extract
1 teaspoon pure vanilla extract
1/4 cup unsweetened cocoa powder
1/4 cup unsweetened cocoa powder
1/2 teaspoon baking powder
1/2 teaspoon baking powder
1 tablespoon icing sugar mixture
1 tablespoon icing sugar mixture
1 1/2 tablespoons dark cocoa powder
1 1/2 tablespoons dark cocoa powder
100g Menz FruChocs, blitzed
100g Menz FruChocs, blitzed
150g good quality dark chocolate, roughly chopped
150g good quality dark chocolate, roughly chopped
Method
Step 1

Preheat the oven to 160°C.

Step 2

Coat a swiss roll pan with cooking spray; line the bottom with parchment paper and spray.

Step 3

To make the cake, beat the cream of tartar and egg whites in a medium bowl with an electric mixer on medium speed until soft peaks form.

Step 4

Gradually beat in 1/4 cup of the sugar until stiff peaks form.

Step 5

Whisk the egg yolks with the milk, oil, vanilla and remaining 1/2 cup of sugar in a large bowl.

Step 6

Sift the flour, cocoa powder, baking powder and salt in a medium bowl; whisk into the yolk mixture until smooth.
Stir 1/3 of the egg white mixture into the batter with a rubber spatula, then gently fold in the remaining egg white mixture in 2 batches.

Step 7

Spread the batter in the prepared baking sheet.
Bake until the cake springs back when gently pressed, about 10-12 minutes.
Let cool for 5 minutes.

Step 8

Generously sift cocoa powder over the top of the warm cake and loosen the edges with a knife.

Step 9

Lay a clean kitchen tea towel over the cake.
Place another baking sheet over the towel and flip the cake with the baking sheets to invert it onto the towel.
Remove the top baking sheet and parchment, then dust the top with cocoa powder.
Starting at the long end, roll up the cake and towel together.
Transfer seam-side down to a rack and let cool completely.

Step 10

Use an electric mixer to whisk the combined cream, sugar and cocoa powder until firm peaks form.
Fold in 40g of the Menz FruChoc crumbs.
Place in fridge until ready to use.

Step 11

Place all ingredients in a saucepan over low heat, stirring occasionally, until the chocolate has melted, and the ingredients are well combined, smooth and glossy.
Remove from heat and set aside.

Step 12

Unroll the cake and spread with the filling.
With one of the short edges facing you, slice the cake horizontally into 6 strips, then slice in half vertically so you have twelve 3-by-6 1/2-inch strips.
Roll the strips to form tight mini rolls.
Dust off any excess cocoa powder.
Chill for 15 minutes.

Step 13

Fit a baking sheet with a wire rack.
Arrange the rolls on the rack so they are not touching and pour the glaze over one end.
Quickly sprinkling Menz FruChoc crumbs over glaze.
Chill at least 15 minutes to set the glaze before serving.