Menz FruChoc Chocolate Biscuit Stacks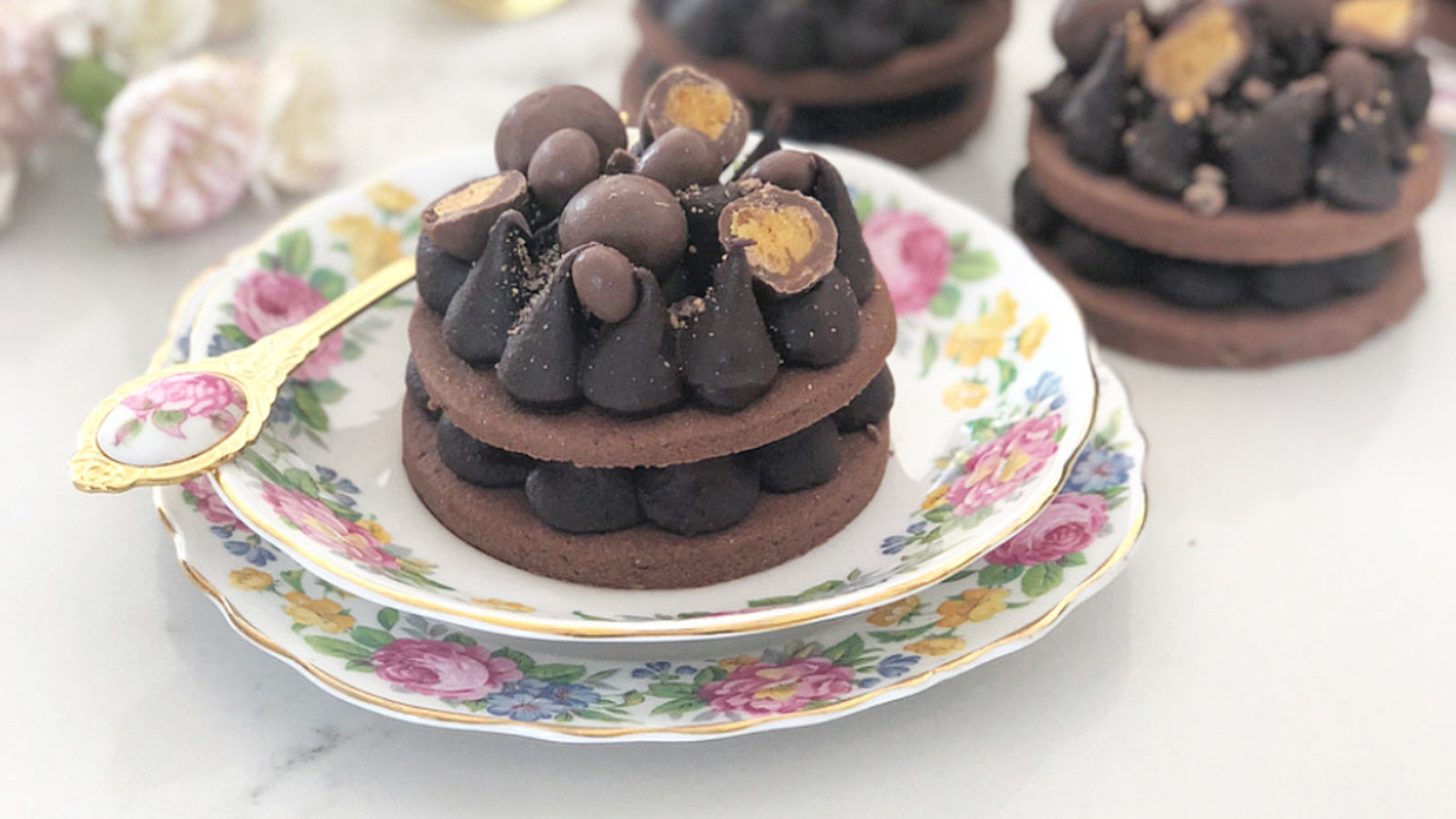 Ingredients
125g unsalted butter, chopped
125g unsalted butter, chopped
1 tablespoon of iced water
1 tablespoon of iced water
250g dark cooking chocolate, chopped
250g dark cooking chocolate, chopped
Method
Step 1

Place the flour, butter and icing sugar in a food processor and process until the mixture resembles fine breadcrumbs.

Step 2

While the motor is running, add egg yolks and process until combined.

Step 3

Add the iced water and process until the dough just comes together.

Step 4

Turn out onto a lightly floured surface and gently bring together to form a ball.

Step 5

Flatten into a disk, wrap in plastic wrap and refrigerate for 30 minutes.

Step 6

Preheat oven to 160°C. Roll the dough between 2 sheets of non-stick baking paper to 5mm thick.
Using a round cookie cutter, cut out biscuit rounds.

Step 7

Place cookies on 2 lightly greased large baking trays lined with non-stick baking paper and cook for 10-15 minutes or until golden brown.

Step 8

To make ganache, combine chocolate and cream in a heatproof bowl over a saucepan of simmering water.
tir with a metal spoon until smooth.
Remove bowl from heat.

Step 9

Set aside at room temperature to cool, stirring occasionally, until ganache is thick and spreadable.
Place the chocolate ganache in a piping bag fitted with a 1cm fluted nozzle and pipe onto half the biscuits.

Step 10

Place Menz FruChocs in between piped chocolate.
Sandwich with the remaining biscuits and repeat by piping chocolate ganache onto of the biscuit and decorating with remaining Menz FruChocs.

Step 11

For a little something more, decorate by sprinkling some Menz FruChoc crumbs.
Simply add Menz FruChocs into a food processor and blend to crumb like consistency.