Violet Crumble Dark Choc Honeycomb Lamingtons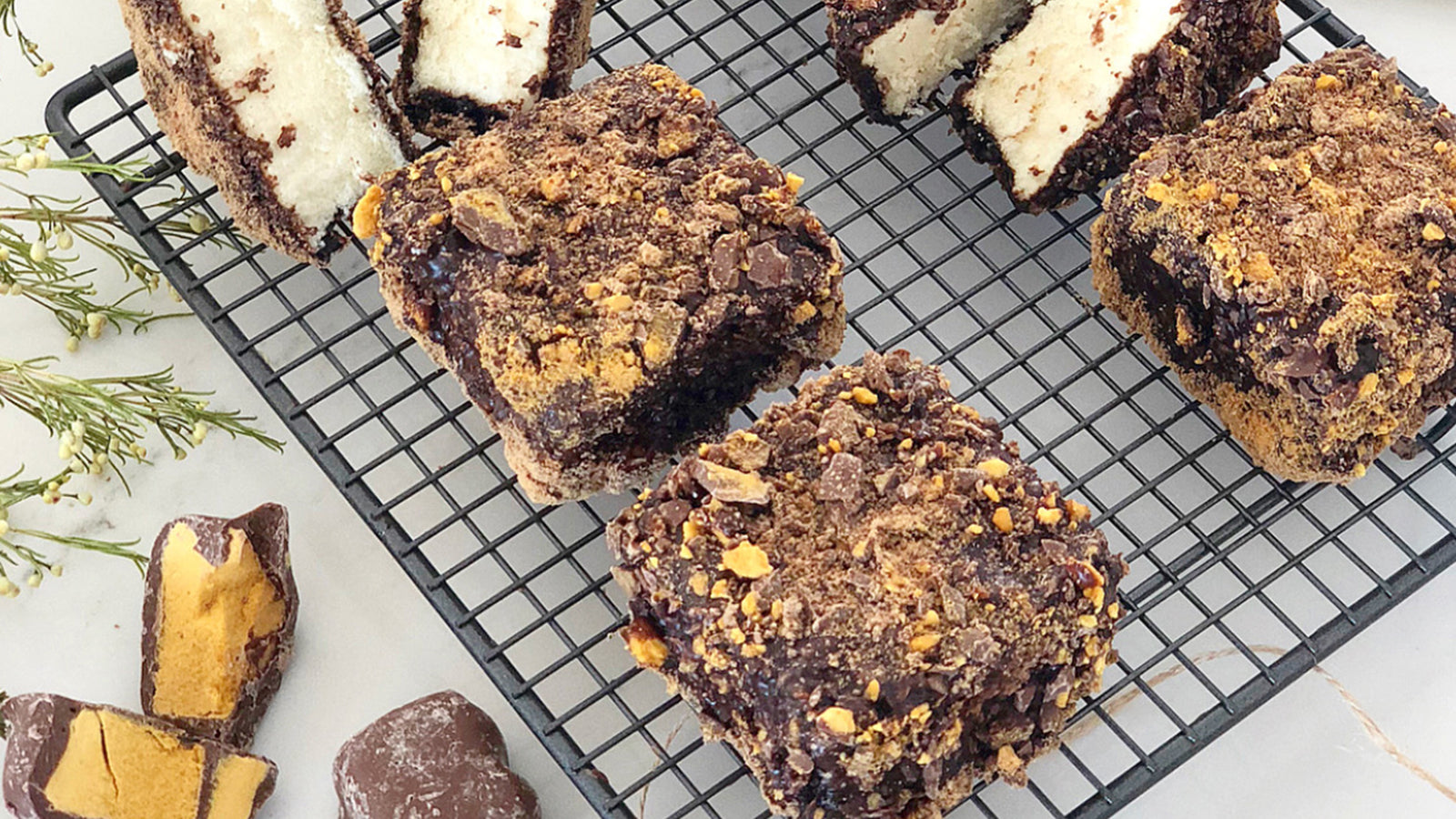 Ingredients
6 eggs, at room temperature
6 eggs, at room temperature
1 teaspoon vanilla extract
1 teaspoon vanilla extract
50g unsalted butter, melted
50g unsalted butter, melted
1 1/2 cups desiccated coconut
1 1/2 cups desiccated coconut
150g Violet Crumble Dark Choc Honeycomb
150g Violet Crumble Dark Choc Honeycomb
Method
Step 1

Preheat oven to 160°C. Grease a 20 x 30cm lamington pan.
Line with baking paper, allowing 2 long sides to overhang.

Step 2

Sift flour and baking powder into a bowl.
Add salt.
Beat the eggs, sugar and vanilla in a large bowl until thick and pale.
Sift one-third of flour mixture over the egg mixture.
Fold until combined.
Repeat with the remaining mixture.

Step 3

Pour butter and water around the edge of the bowl.
Fold to combine.
Pour into prepared lamington pan.
Bake for 20-25 minutes or until mixture springs back when lightly touched.
Cool slightly in pan for 5 minutes, with oven door slightly ajar.
Turn onto a wire rack and allow to cool completely.
Trim edges of the cake and cut into 15 squares.

Step 4

For chocolate icing, sift icing sugar and cocoa into a heatproof bowl.
Add water and butter and stir until smooth.
Place over a saucepan of warm water.

Step 5

Place Violet Crumble into food processor and blitz into a crumb.

Step 6

Place Violet Crumble on a plate.
Use 2 forks to dip 1 cake square in icing.
Shake off excess.
Roll in Violet Crumble to coat.
Transfer lamington to a lined tray.
Repeat with remaining cake, icing and honeycomb.
Set aside for 1 hour to set.