Bumbles Choc Honeycomb, Banana & Caramel Pavlova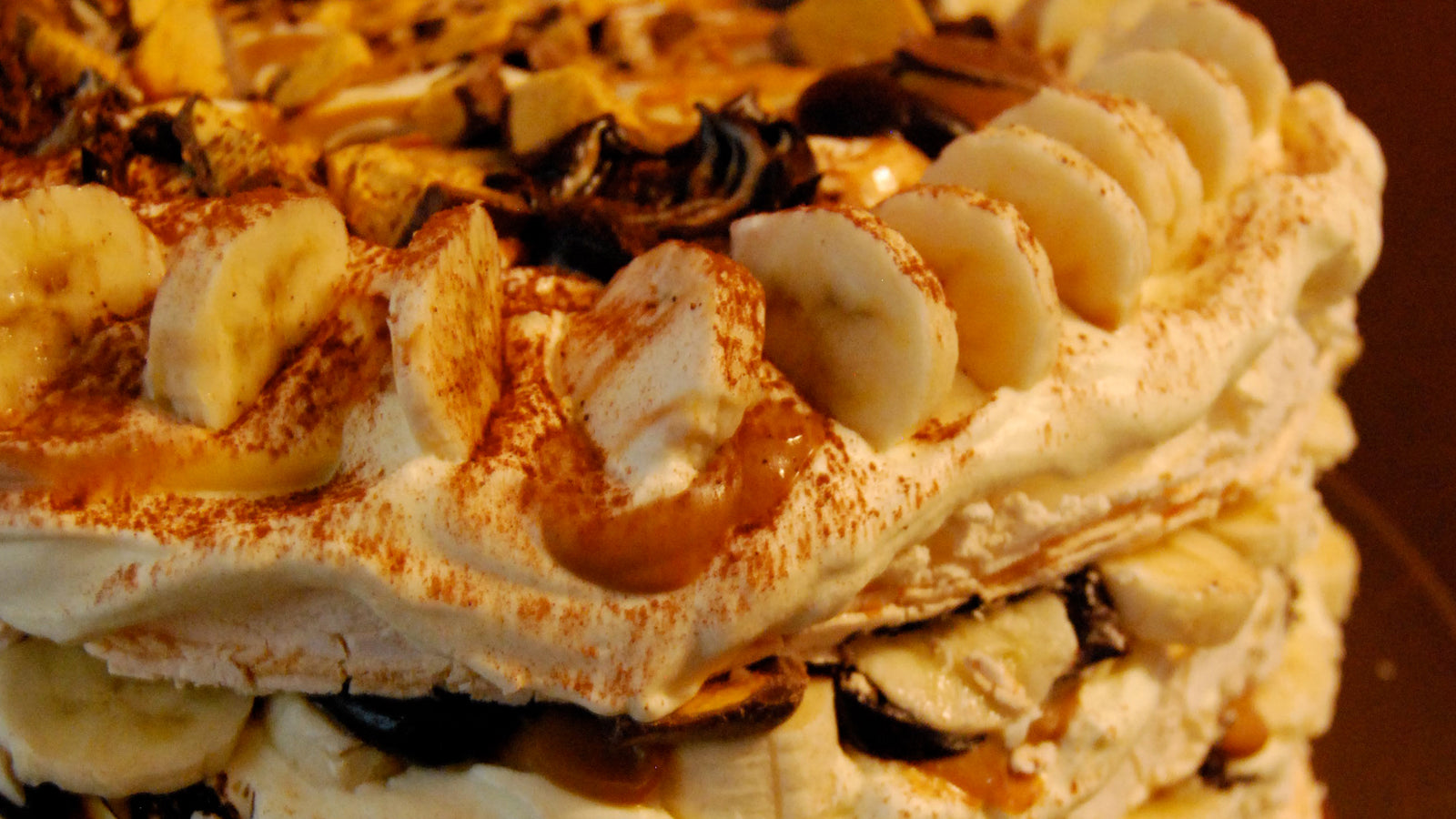 Ingredients
2 cups (approx 280g) Bumbles Choc Honeycomb roughly chopped, plus another 100g to decorate
2 cups (approx 280g) Bumbles Choc Honeycomb roughly chopped, plus another 100g to decorate
2 teaspoons white wine vinegar
2 teaspoons white wine vinegar
1/4 teaspoon vanilla extract
1/4 teaspoon vanilla extract
400g dark chocolate (70% cocoa solids)
400g dark chocolate (70% cocoa solids)
380g can of Nestle Top'n'Fill caramel
380g can of Nestle Top'n'Fill caramel
*Ready made pavlova bases available from your local retailer
*Ready made pavlova bases available from your local retailer
Method
Step 1

Position 3 shelves in oven and preheat to 140C.
Prepare 3 trays with a sheet of non-stick baking paper.
Roughly chop 280g of Bumbles Choc Honeycomb.
Using an electric mixer, whisk egg whites on high speed to stiff peaks, then gradually add sugar and whisk until thick and glossy.
Add cornflour, vinegar and vanilla, and stir to combine.
Gently fold in Bumbles Choc Honeycomb until combined.

Step 2

Divide meringue among trays, spooning it into a mound in the centre of each lined baking tray.
Using a palette knife or back of a spoon, spread meringue to make rough 20cm circles.
Place trays in oven, bake for 30 minutes, then swap trays: move bottom tray to middle shelf, middle tray to top shelf and top tray to bottom shelf.
Bake for a further 30 minutes.
Cool overnight.

Step 3

Break chocolate into pieces, mix in the 300ml of cream.
Place chocolate and cream in a heatproof, microwave-safe bowl.
Microwave on HIGH (100%) for 1 to 2 minutes or until smooth, stirring with a metal spoon halfway through cooking.
Mix until smooth and all the chocolate is melted.
Refrigerate for 30 minutes covered.

Step 4

Using an electric mixer, whisk remaining 450ml cream to soft peaks.
Slice bananas and roughly chop the extra Bumbles Choc Honeycomb.
Place 1 meringue on a plate.
Spoon over 1/3 of the ganache, then 1/3 of the cream and 1/3 of the caramel.
Top with half the bananas.
Sprinkle with 1/3 of the Bumbles Choc Honeycomb.

Step 5

Repeat this layering with your second meringue and finish with the third meringue spooning over remaining ganache, caramel and cream.
Scatter with extra Bumbles Choc Honeycomb and bananas.
Refrigerate the stack for 30 minutes to firm before serving.