Menz FruChoc Gluten Free Chocolate Custard Tart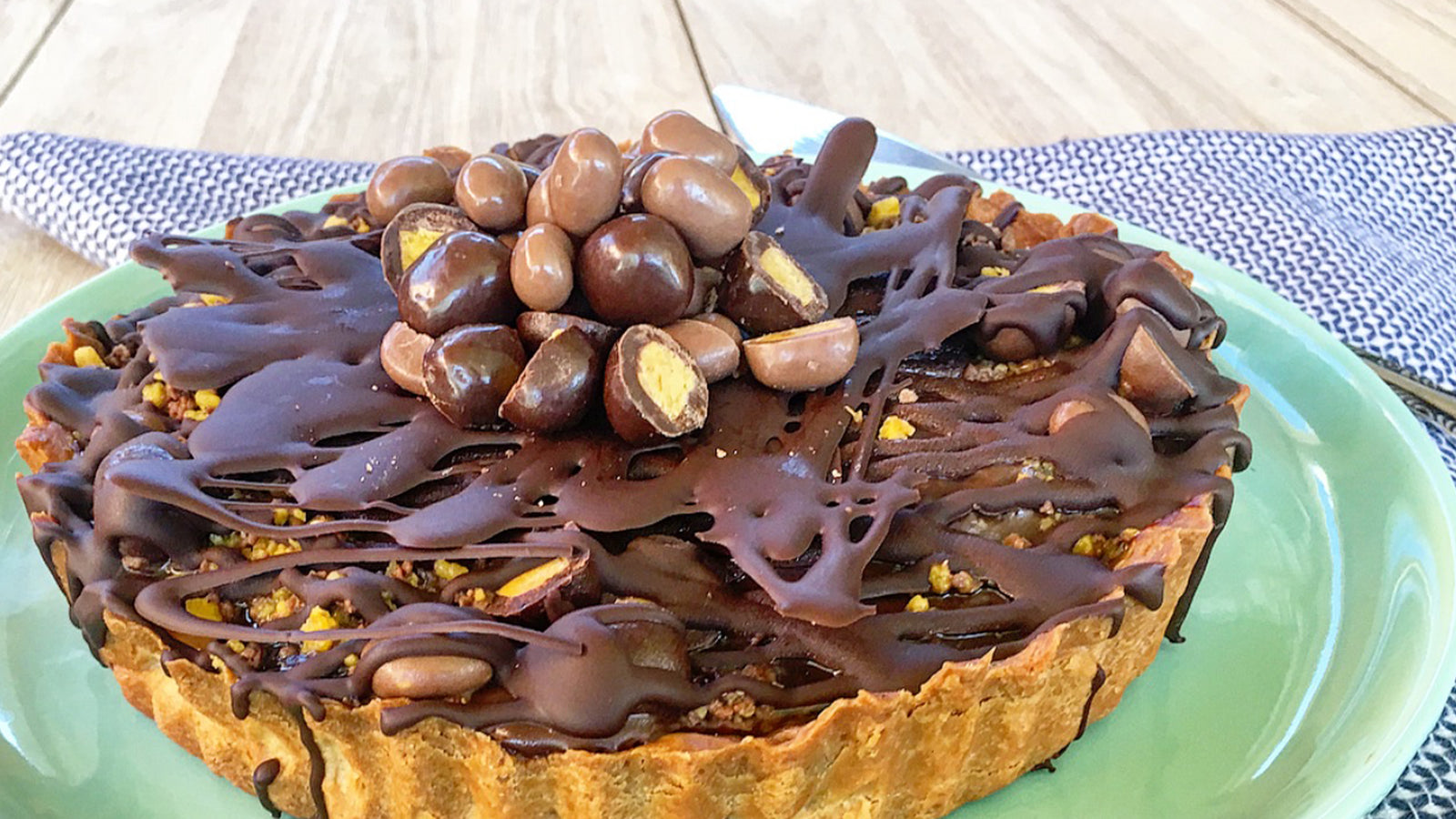 Ingredients
1x Your favourite Gluten Free Short Crust Recipe Base, or cheat like I do with 1x Gluten Free Sweet Vanilla Bean Short Crust Pastry (by Carême)
1x Your favourite Gluten Free Short Crust Recipe Base, or cheat like I do with 1x Gluten Free Sweet Vanilla Bean Short Crust Pastry (by Carême)
100g Gluten Free Dark Chocolate
100g Gluten Free Dark Chocolate
100g Menz FruChocs, blitzed in a blender (crumb like)
100g Menz FruChocs, blitzed in a blender (crumb like)
50g Menz FruChocs, decoration
50g Menz FruChocs, decoration
150g Menz FruChocs Dark, decoration
150g Menz FruChocs Dark, decoration
Chocolate custard filling
1 tablespoon custard powder
1 tablespoon custard powder
3 tablespoons caster sugar
3 tablespoons caster sugar
200g dark chocolate, chopped
200g dark chocolate, chopped
Method
Step 1

Preheat the oven to 180C/160C fan forced and grease a 3cm-deep, 24cm fluted tart tin with removable base with coconut oil.

Step 2

Roll pastry on a lightly floured surface to a 4mm-thick disc.
Line the base and side of tin with pastry.
Use a sharp knife to trim the edges.
Place in the fridge for 15 minutes to rest.

Step 3

Place the tart tin on an oven tray.
Line the pastry with baking paper and fill with pastry weights or rice/beans.
Bake in preheated oven for 10-15 minutes.
Remove pastry weights or rice/beans and bake for a further 5 minutes or until pastry is just cooked through.
Allow to cool.

Step 4

Meanwhile melt chocolate in a heatproof bowl over a saucepan of simmering water.
Allow to cool slightly.
Pour cooled chocolate into pastry and sprinkle with crumbed Menz Fruchocs.

Step 5

To make the filling, combine the yolks, custard powder and sugar in a saucepan.
Add the chocolate, cream and milk and place over low heat.
Cook, occasionally whisking, for 5 minutes or until chocolate melts and mixture is smooth.
Remove from heat.

Step 6

Pour the chocolate custard mixture into the pastry case.
Bake at 160C /150C fan forced, in oven for 20 minutes or until custard is just set.
Remove from oven and set aside to cool completely.
Place in the fridge to chill.
Once chilled remove from pastry tin.

Step 7

Place on a serving plate.
Decorate with remaining melted chocolate and Menz FruChocs.